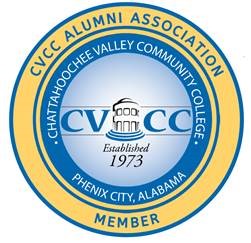 PIRATE ALUMNI:
Whether you finished your degree, started your educational journey, took a class or earned your job skills through CVCC, you are an alumni of Chattahoochee Valley Community College. Just as it was when you were enrolled here, we are still a resource for YOU!
Being a Pirate Alumni is very important. Your support in reaching out to prospective and current students, our community, and other alumni to share your experiences at CVCC is invaluable. Here are some ways Pirate Alumni can offer support:
Mentoring
Special events
Supporting the CVCC Foundation through scholarships, endowments and more
We also have some exciting news; since CVCC was established in 1973, 2023 is a milestone year and our 50th Anniversary.  To commemorate this milestone, we are extending a one-time opportunity to join the CVCC Alumni Association as a Charter Member.
Pirate Charter Membership is $19.73 through December 2023. This membership includes a certificate and a magnet with a CVCC Charter Member Seal.
Golden Pirate Charter Membership is $50 through December 2023. It includes a certificate, a magnet with a CVCC Golden Pirate Member seal, and an alumni T-shirt.
Pirate Lifetime Golden Membership is $150. Contains all the above for the Golden Pirate plus a set of four coasters. Charter memberships will be available through December, 2023.
We are proud you are a Pirate Alumnus. We would love to hear about all the great things you have accomplished and show you all the great things happening here at Chattahoochee Valley Community College. Proceeds will support campus beautification projects, unless otherwise designated. It's great to be a Pirate!
YOU ARE A PART OF OUR PAST, PRESENT AND FUTURE! JOIN CVCC ALUMNI ASSOCIATION
For more information, contact: David Fletcher 334-214-4938, alumni@cv.edu