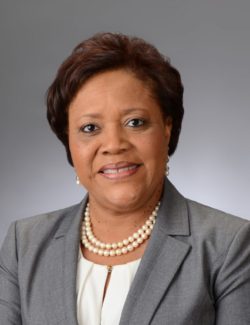 It is my pleasure to greet you on behalf of the faculty and staff of Chattahoochee Valley Community College (CVCC). Our college is a jewel in the Chattahoochee Valley Region and we offer a myriad of educational opportunities to benefit individuals interested in credit and non-credit training.
We welcome you to our campus and our online resources, and we encourage you to take advantage of the world of opportunities that are afforded to students and the surrounding community. The College is proud to offer programs and services in adult education, workforce development, academic transfer preparation, and career and technical educational training. Our students receive a quality education in a friendly and nurturing environment, and upon completion, they are prepared to succeed anywhere!
We offer instruction in a variety of instructional delivery modes, including traditional, online, hybrid, and online hybrid. Students are also able to tailor their schedules to fit their lifestyles and personal needs. Terms are offered in traditional semesters and a variety of mini-terms with varying starts and lengths.
Student success is fostered by providing a student-centered environment and support services that respect uniqueness and value diversity. The College also supports partnerships that advance the efforts of our community and workforce development and cultivates lifelong learning.
As you review our website, you will find information on our educational programs and support services. You will also find information to guide you through the admissions, financial aid, and advisement/registration processes. Additionally, information on student life, campus organizations, athletics, and much more is accessible through the website. At CVCC, we are always willing to provide additional information on any topic, so if you don't find what you need, feel free to contact us. Take full advantage of the Pirate experience and let CVCC be the next step on your educational journey.
Thank you for your interest in CVCC, and we hope to see you soon!
Respectfully,
Jackie Screws
President